Aimed at forty teachers from Spain and Portugal, it will conclude with site visits to explore the history of the Jewish community in Barcelona.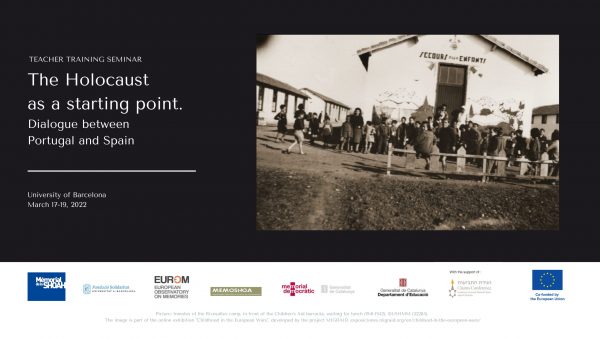 Forty high school teachers from Portugal and Spain will gather, from 17 to 19 March at the Faculty of Geography and History of the University of Barcelona, for the sixth edition of the teacher training seminar "The Holocaust as a starting point". It is organized by the Mémorial de la Shoah and the European Observatory on Memories (EUROM) of the Solidarity Foundation of the University of Barcelona, together with Memoshoá, the Memorial Democràtic and the Department of Education of the Generalitat de Catalunya; with the support of Claims Conference and the European Comission.
The three-day programme will be developed in Spanish, Portuguese and English, in four conference sessions and five workshops with the aim of sharing contents, tools and best practices, with and between the participants, on the approach to the Holocaust in the classroom.
The opening speech was delivered, from Kyiv, by Anatolii Podolskyi, director of the Ukrainian Center for Holocaust Studies. A lecture on the "History of Anti-Semitism" was given by Pierre Savy of the Ecole française in Rome, and the 2021 learning activity "Iberian Republicans in concentration camps Mauthausen" was presented.
The second day of the seminar includes, in the morning, the talk "Biopolitics of Nazism and the Soviet system", by José Caselas (CFUL), and the workshops "Didactics of the Holocaust through cartography", with Jordi Barra (UB), and "Barcelona, the Purgatory: the Sequerra brothers between Hell and Paradise", with professor/researcher Maria João Duarte. In the afternoon, the "History of slavery in Spain" will be addressed, with Gustau Nerín (UB), and the workshops "Working on the history of slavery in the classroom", with Celeste Muñoz (UNED), and "Narrative fiction and the representation of the great human disaster", with professor and writer João Pinto Coelho, will be offered.
On the third day, the conference "The stages of the final solution" will be offered, with Tal Bruttmann (EHESS), and the workshops "Tools for working with witnesses", with Noemí Riudor (UdL), and "Building up a common learning activity", with Loranda Miletić (ETTA), will be held. The seminar will conclude with site visits to explore the history and memory of the Jewish community at the neighborhood of Poble Sec (1920-1939) and the Gothic Quarter (Middle Ages and nowadays).
---
---