The event will present experiences for the reception of refugees in universities in Spain and will discuss opportunities, challenges and obstacles in accessing and integrating these people into higher education.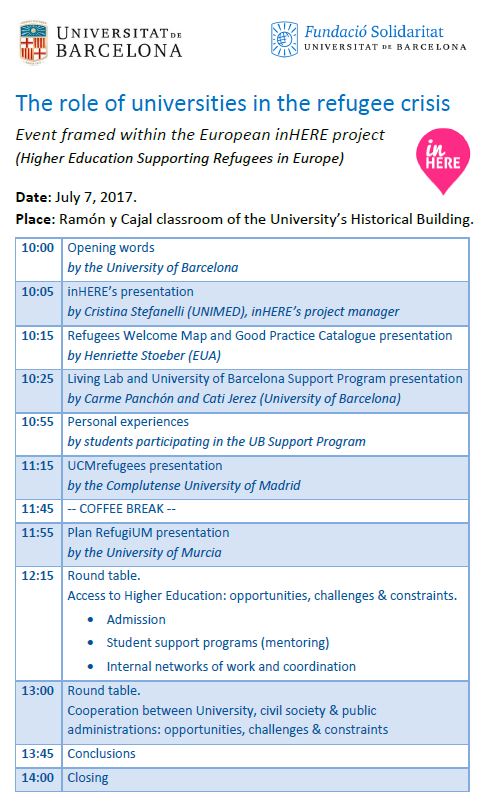 On July 7, 2017, the University of Barcelona will host the multiplier event titled "The role of universities in the refugee crisis", which will look at the developments of the inHERE project. The event will take place from 10 a.m. to 2 p.m. in the Ramón y Cajal classroom of the University's Historical Building, and it is open to the whole university community.
The two-year project is concerned with facilitating the access and integration of refugees to the European Higher Education Institutions. To do this, inHERE seeks to improve the response to the specific needs of these people through knowledge sharing, peer-support and academic partnership.
The multiplier event in Barcelona is framed within the second phase of the project, the Living Lab, which is led by the University of Barcelona. The Living Lab will bring together staff members from different universities in Europe to design, explore, experience, refine and assess practices and policies applicable to real-life scenarios for evaluating their current or potential action plans to facilitate the access of refugees to higher education.
The event held at the University of Barcelona will present the inHERE project, as well as the results of its first output (Good Practice Catalogue) and the content and planning of the second series of programming (Living Lab). Moreover, it will introduce replicable initiatives for the welcome of refugees held in universities in Spain; and, in roundtables, the panelists will discuss opportunities, challenges and obstacles of this reception, as well as the possibilities of cooperation with the civil society and the public administrations in this field.
The inHERE project is co-funded by the Erasmus+ Programme of the European Union and coordinated by the Mediterranean Universities Union (UNIMED). In addition to the University of Barcelona and UNIMED, the partners of the project are the European Universities Association (EUA), La Sapienza University of Rome and Campus France. The United Nations High Commissioner for Refugees (UNHCR) is an associate member.