The monologue can be seen on November 14 at 7 pm at the Goethe-Institut Barcelona. The entrance is free, but registration is required.
Registration form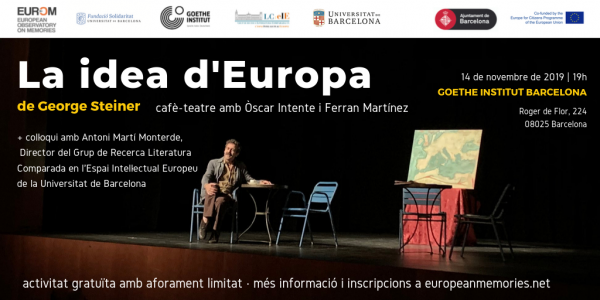 In the framework of the commemorations of the 30 years of the fall of the Berlin Wall, the Goethe-Institut Barcelona and the European Observatory on Memories (EUROM) of the UB Solidarity Foundation, with the support of the Barcelona City Council, promote a representation of the play «The idea of Europe»: a monologue directed and performed by Òscar Intente with music by the accordionist Ferran Martínez.
The play is based on the homonymous essay by George Steiner (1929), writer, philosopher, cultural critic and professor of literary studies, who in 2004 explores in «The idea of Europe» the European identity in a globalized world. To do this, Steiner characterizes Europe and its citizenship with the excuse and metaphor of European cafes and streets. What do we know of ourselves, as Europeans? Do we identify ourselves as such? How is the idea of Europe?
The representation will be on November 14, 2019, at 7 pm, at the auditorium of the Goethe-Institut Barcelona (c/ Roger de Flor, 224). The activity is free, but with limited capacity (80 seats), so it is recommended prior registration through this link. After the performance, the public will be invited to discuss its own idea of ​​Europe during a debate with Professor Antoni Martí Monterde, director of the research group Comparative literature in the European intellectual space of the Faculty of Philology of the University of Barcelona.
---
---
This news is related to the following SDG of 2030 Agenda: