Timed for 15th of September, from 13:15 CET, the webinar is open to university faculty, staff and students to drive positive change in higher education settings.
The SMILE project (Social Meaning Impact through LLL Universities in Europe), co-funded by the Erasmus+ programme, organizes the webinar "Recognizing and including the needs of students with low socio-economic background in higher education: on-line courses on inclusion and diversity".
The activity will take place on Friday the 15th of September of 2023, from 13:15 to 14:15 CET, in English, via Zoom. Prior registration is required.
The aim of the webinar is to bring together university faculty, staff and students to explore strategies to foster inclusion and diversity in higher education settings.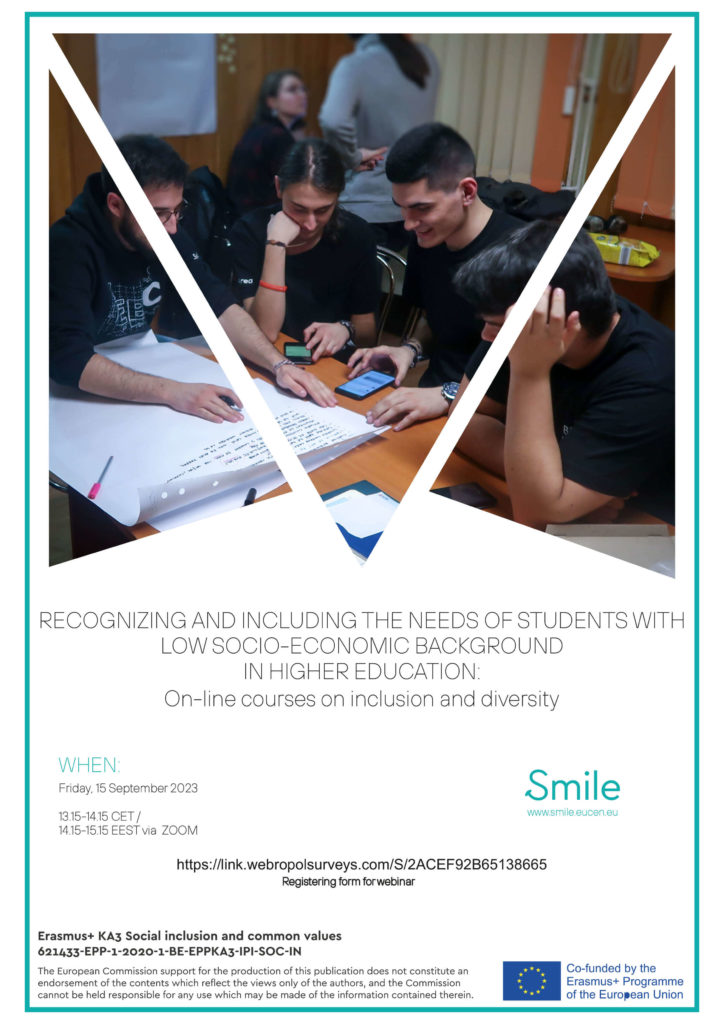 Contributions on university diversity and inclusion and Diversity Award
Precisely until the day of the webinar, on September 15, SMILE collects contributions on university diversity and inclusion for its final symposium, that will take place in Barcelona on 16 November 2023, followed by the 2023 eucen Autumn Seminar, on 16-17 November 2023. Both events want to give visibility to the way universities are (or should be) addressing diversity and inclusion, and celebrate the growth and evolvement in importance of the third mission of universities.
The abstracts submitted for these events must address one of the three blocks of inequity: migrant background students, women in leadership or low socio-economic status students, and must connected to at least one of these challenges: understanding diversity, collaborating towards diversity, embedding diversity or facilitating diversity.
The authors of the strongest abstracts will be invited to present their work during the symposium in Barcelona, and they will also opt to win one of the three SMILE Awards on Diversity 2023.
SMILE partners
The Solidarity Foundation of the University of Barcelona is one of the four civil society organisations from Belgium and Spain that participate in the SMILE project, together with six European universities from Germany, Ireland, Italy, Finland, Malta and Romania. The project is coordinated by eucen (European university continuing education network).
---
---
This news is related to the following SDG of 2030 Agenda: