On World Refugee Day (June 20), with the hashtag #UBRefugi2021, we will share snapshots of students from the Refugee Support Program, to which you can contribute through UB Sponsors.
The global rate of accessing university is 37%, but when it comes to refugee people this is reduced to the 3%. To change this situation, the United Nations High Commissioner for Refugees (UNHCR) has committed to guarantee that 15% of the young refugees can access higher education by 2030. This objective is known as 15by30.
Since 2015, the University of Barcelona has been contributing to this objective through its Support Program for Refugees. As part of this program, there is a university transition course which receives fifteen young people from conflict areas (40% are women) every edition. Apart from a study grant, the program provides these people with a comprehensive support in line with the complementary pathways for admision to third countries.
Documentary "Refuge University" (Nanouk Films, 2019)
On June 20, the World Refugee Day, with the hashtag #UBRefugi2021, we will share through social networks images and words the students from the support program chose to represent their lives in Barcelona, in order to give visibility to one of the possible realities of young refugees.
Have you already collaborated with the UB Support Program for Refugee?
Through the microcenage campaign Refuge University: Safe ways to support refugee students, launched by UB Sponsors, you can contribute to the scholarships of the Program, so that young people from Syria, Afghanistan, the Democratic Republic of the Congo or Palestine, among other countries, can access college, and this becomes an opportunity to rebuild their lives.
Video "Host university" (University of Barcelona, 2020)
Taking back the webinar cycle 'Refuge, university and local communities'
Preceding World Refugee Day, the week of 14 to 18 June, the UB Solidarity Foundation has promoted the cycle of six webinars 'Refuge, university and local communities', with the support of the Barcelona City Council. Its aim has been to analyze and debate how the alliance between the university and the local world can favour the welcoming of migrant people and refugees and thus promote cohesion and social inclusion with a clear human rights perspective. You can retrieve the six webinars on the UB Solidarity Foundation Youtube channel.
UB Computer Science students are challenged to create an asylum app
The Faculty of Mathematics and Computer Science of the UB and the UB Solidarity Foundation are organizing, from June 25 to 28, the hackathon App4InfoRefugees, with the support from the Barcelona City Council. The activity presents a specific challenge to the students: to create a phone app to promote the access to information on asylum for refugees once they reach Spain and the staff of the entities that work in this field. The registrations can be done until June 22 through this form.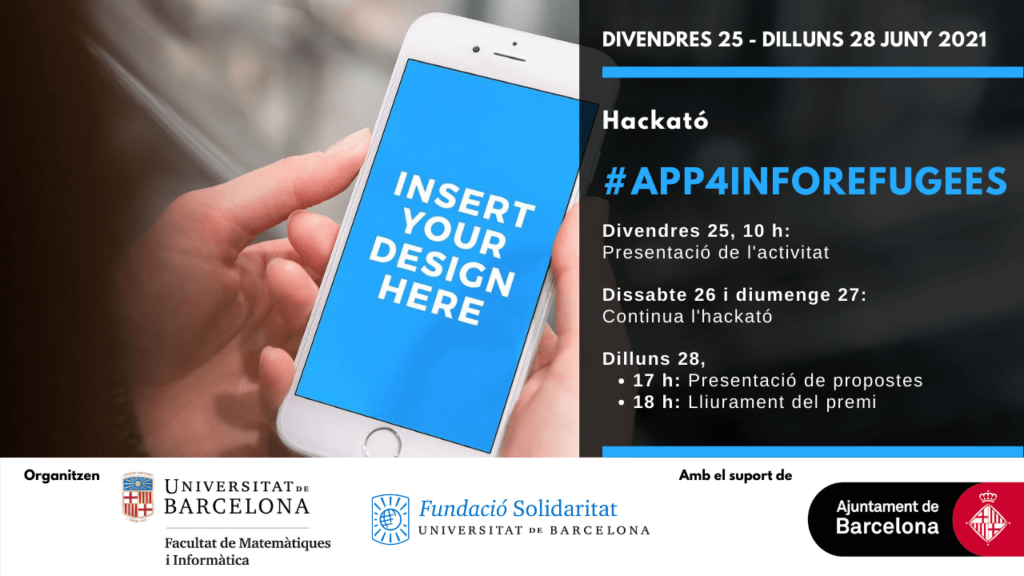 #UBRefugi2021
#WorldRefugeeDay
---
---